T2W2 – 9 Dec 2022
Dear Senior School parents,
It has been another wonderful two weeks of celebrating student achievements notably at our annual IGCSE Recognition & Awards ceremony and last weekend's Parent Teacher Conferences (PTC).
The end of the last academic year was challenging for everyone and especially for our students that dealt with the uncertainty of whether the external examinations would go ahead. Dealing with unknowns is not easy for any of us. in the end, the examinations did not go ahead and so the grade 10s and grade 12's missed the challenge and opportunity to showcase their knowledge and skills. Nonetheless, we recognised their dedication, hard work and resilience from studying IGCSEs for two years. This IGCSE Recognition and Awards ceremony celebrates all our students, teachers and parents' support over the course of the IGCSE programme.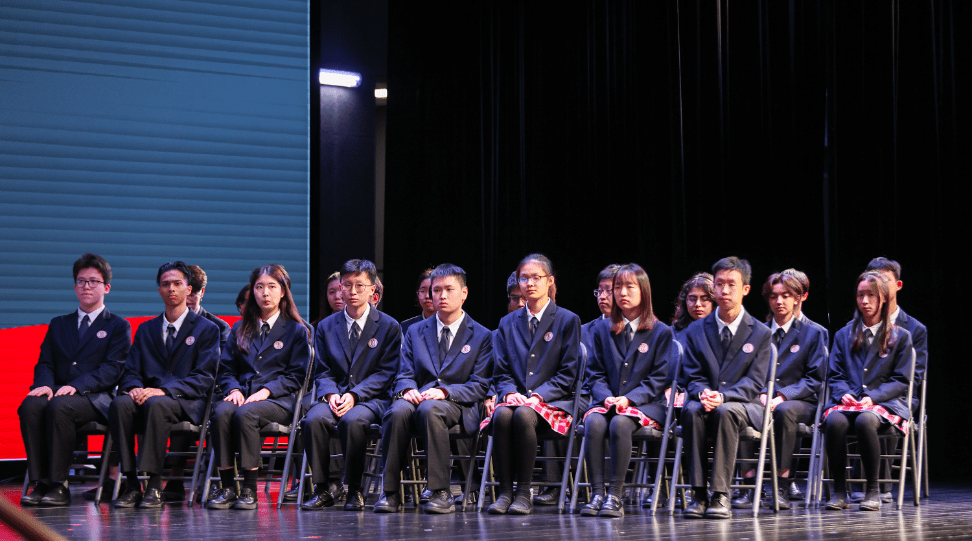 All students received their IGCSE certificates and we presented Best in Subject awards as well as recognising outstanding and best overall achievement.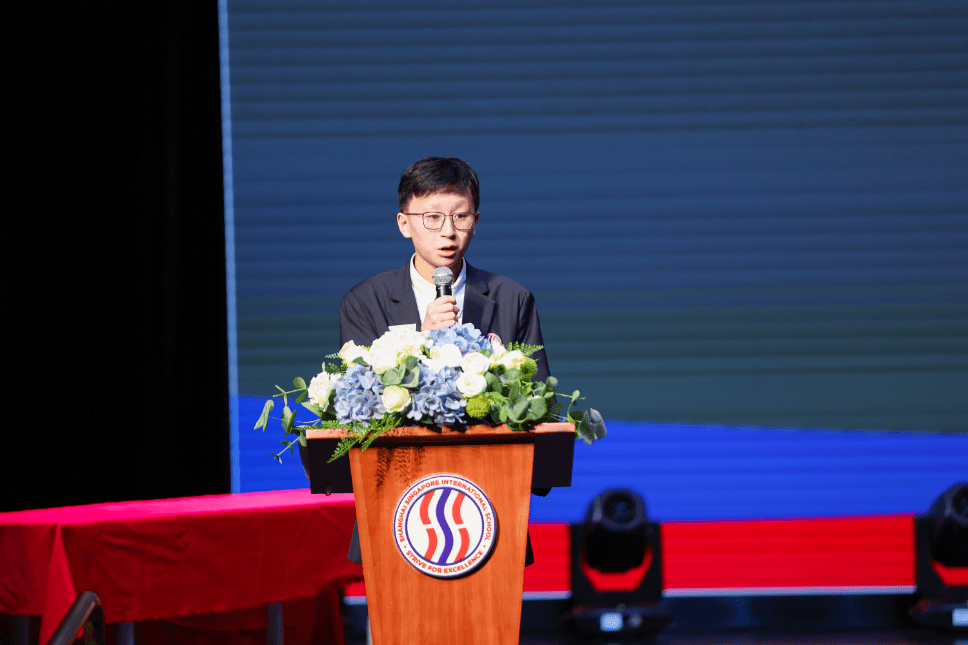 A special thank you to Mr. Cole and his IGCSE Awards committee for organising this event.
Last Saturday, we welcomed parents to school to meet with their children's teachers. This was our first face-to-face parent-teacher conference in three years. It was fantastic to see and meet with so many parents in person again. While the end of term parent-teacher and student-led conferences are invaluable opportunities to meet with your child's teachers. I also encourage you to contact your child's subject teachers on a regular basis for more frequent updates on your child's learning.
The rescheduled Group 4 project on the theme of "Greenifying SSIS" was also a great success. I look forward to seeing many of these proposals come to fruition.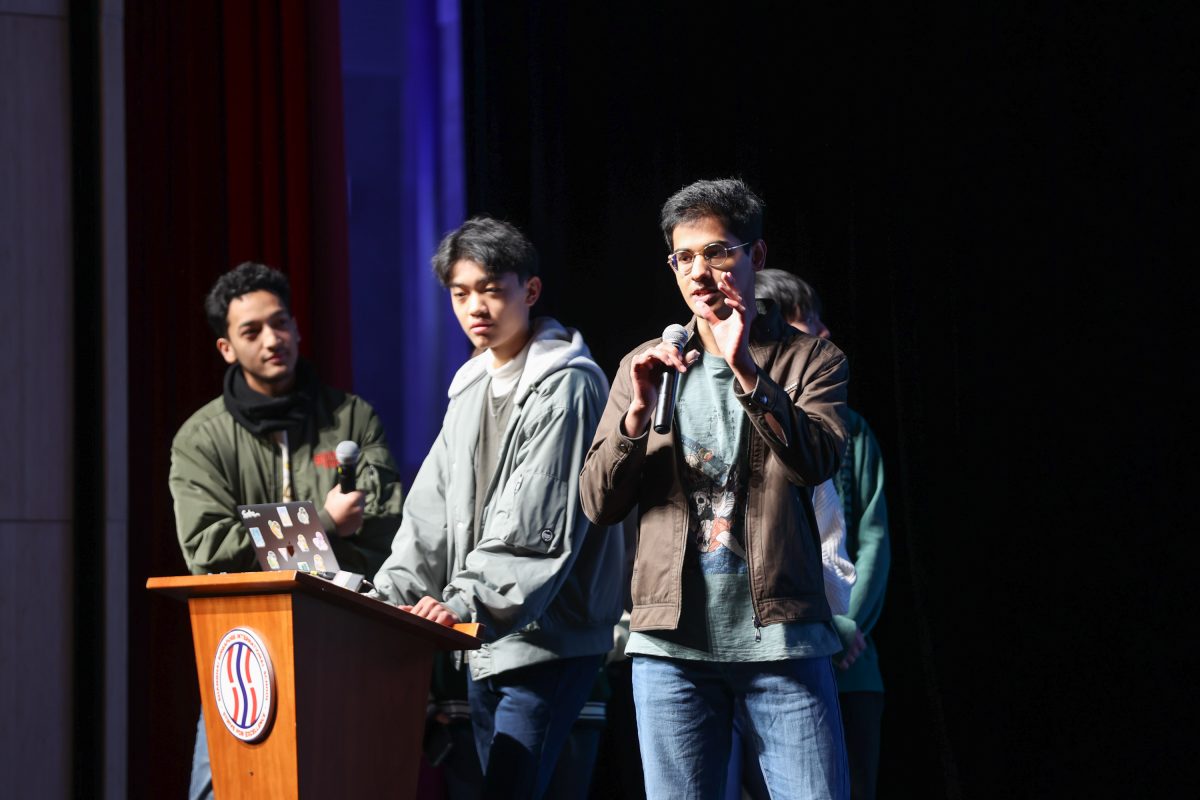 This week the Student Council have led the Gratitude and Kindness week. After a busy few weeks, this initiative from the Student Council is very much appreciated by all SSIS staff!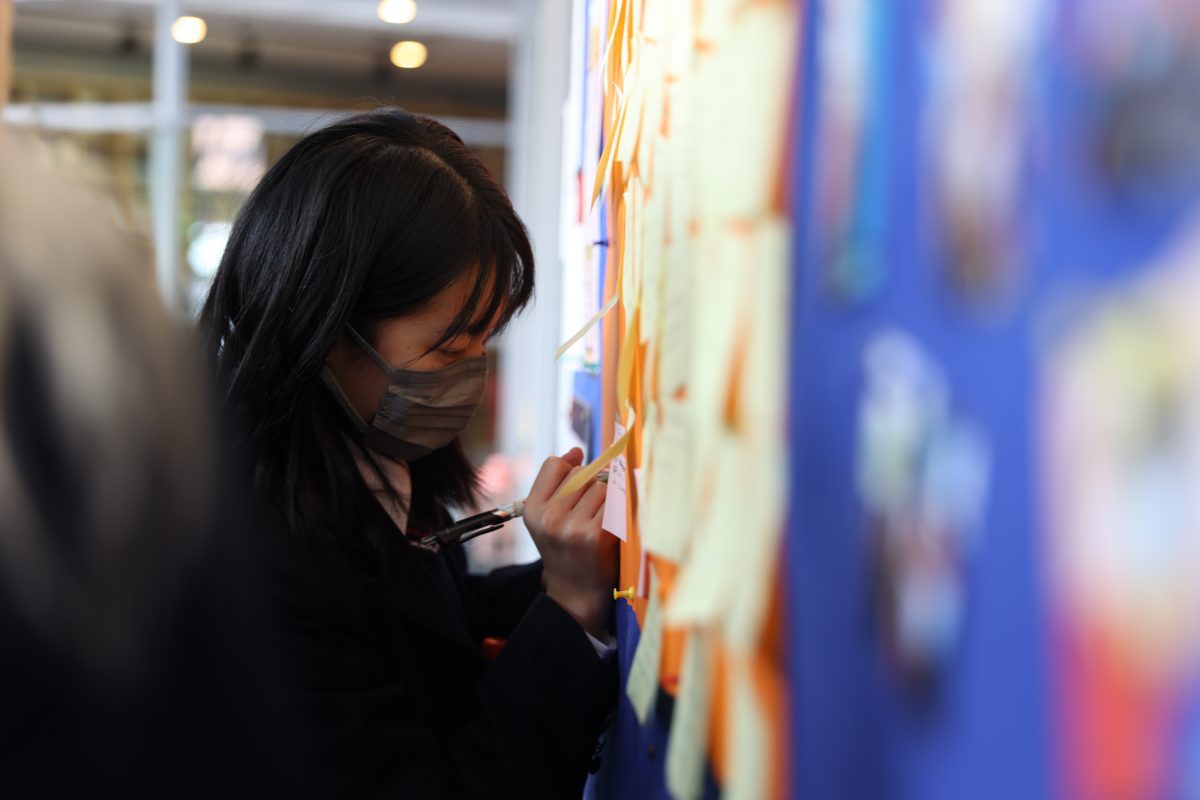 G6-G7 Get Ready for Senior School events rescheduled to 10th and 11th January
Due to ongoing COVID restrictions affecting some grade 6 families the Grade 7 transition events will be rescheduled to
Tuesday 10th January: Grade 7 Get Ready for Senior School Transition Morning (students)
Wednesday 11th January: Grade 7 Get Ready for Senior School Transition Morning (parents)
We will send a new sign-up invitation after the winter holiday.
Scholarships: Applications Open for AY2023-24
We want to recognize our students continued commitment to living up to our school motto of "Striving for Excellence".
This year we are introducing a new Scholarship open to new grade 7's and current grade 9 students. The Academic CLSP and IGCSE Scholarship. This Scholarship recognises academic excellence across the middle school.
This new Scholarship is in addition to the existing Scholarships for students that exhibit excellence in
Academic IBDP Excellence and Merit level
Aesthetics
Athletics
Technology and Innovation
Leadership and Community Service
Full details about the application process are available on the school website.
https://www.ssis.asia/admissions/ssis-scholarships/
Parents and students are encouraged to speak to their teachers or academic coordinators if they have any questions about the application process. The application deadline is Friday 7th April.
I am looking forward to reviewing applications and the exciting new Scholarship initiatives.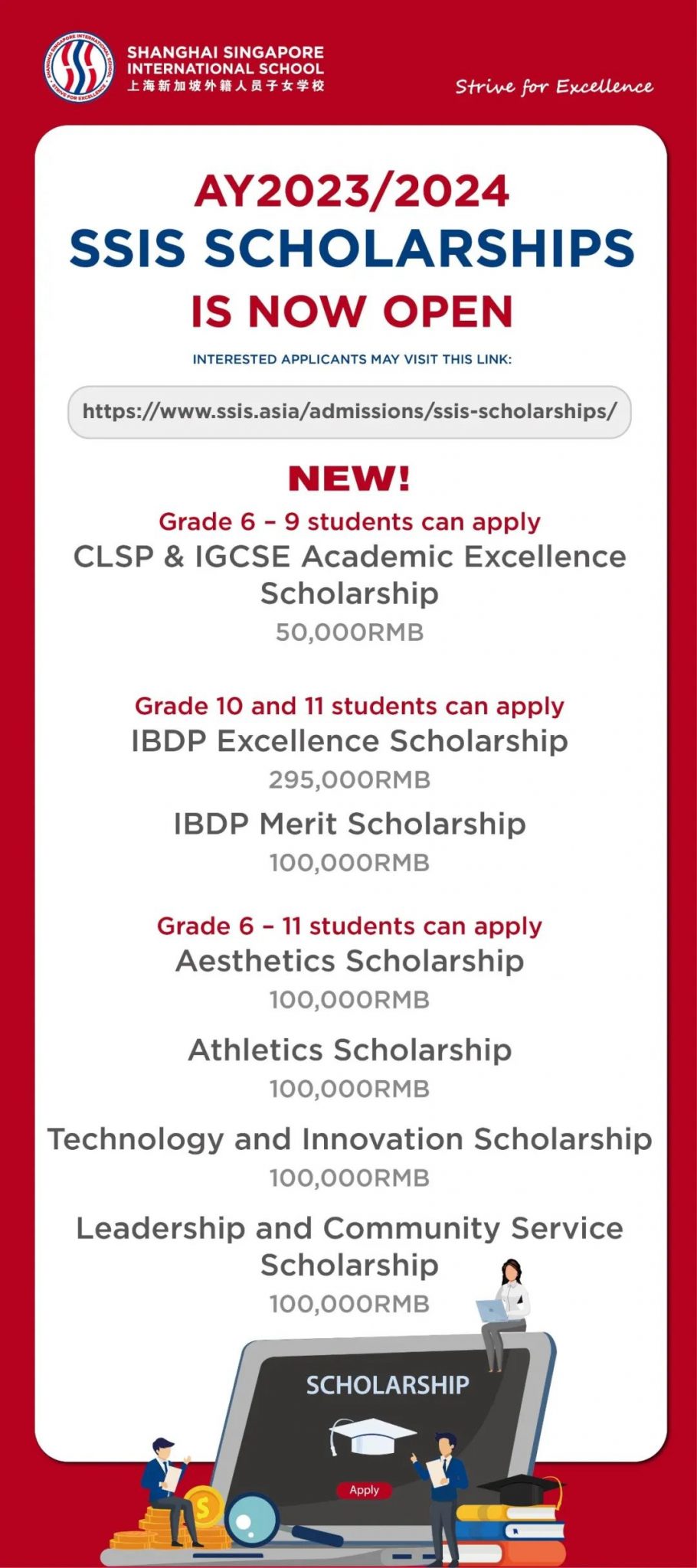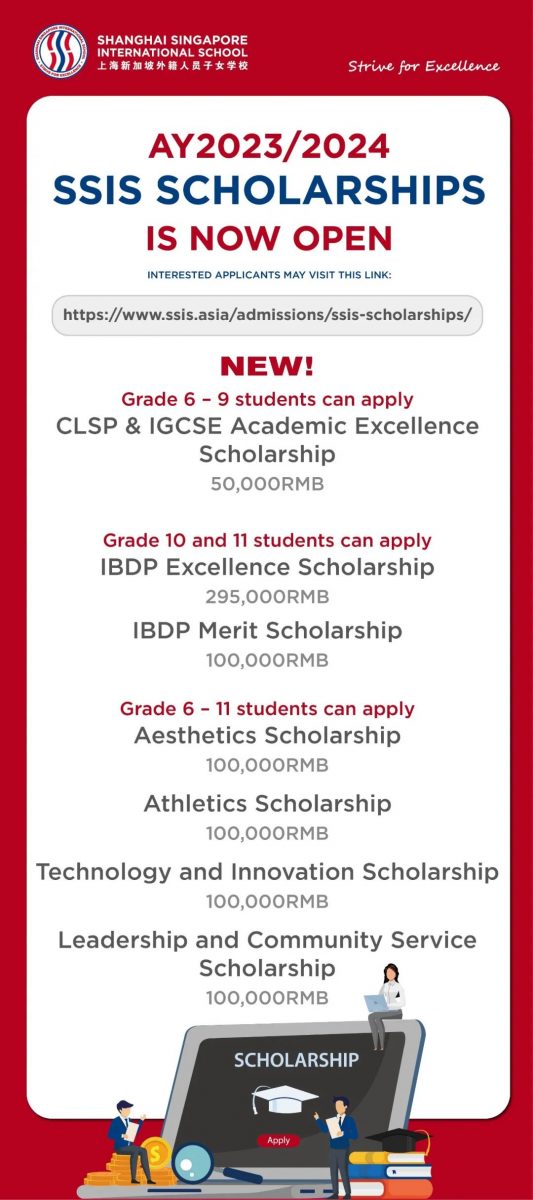 University Applications and Acceptances update from Mr. Daniel Gould, K-12 Head of Counselling
Class of 2023 has hit the ground running. Approximately 60% of the cohort has submitted 102 university applications. Some notable destinations that our students have chosen are as follows:
United Kingdom: University of Cambridge, King's College London, Imperial College London, University College London, University of Edinburgh, London School of Economics
United States of America: Stanford University, University of Pennsylvania, Rice University, University of California Berkeley, University of California Los Angeles, University of Michigan Ann Arbor, University of Miami, University of Illinois Urbana Champaign
Netherlands: University of Amsterdam
Canada: University of Toronto, University of Waterloo
Australia: University of Melbourne, University of New South Wales
Hong Kong: University of Hong Kong, Hong Kong University of Science and Technology, City University of Hong Kong, Chinese University of Hong Kong
We are also excited that this year one of the Class of 2023 has been interviewed for admissions at:
University of Cambridge and
University of Pennsylvania
Lastly, we are overjoyed that one of the Class of 2023 has been admitted to the University of Amsterdam located in the Netherlands. It has been an impressive start to an exciting admissions cycle for the Class of 2023. We are all excited to hear where our students inevitably choose as their next destination of choice.
With gratitude
Mr Steven Gaynor, Senior School Principal
Dates for your Diary
14th – 16th December: Santa's Workshop
Friday 16th December : Korean Parent Coffee Morning including translation of G6-7 Transition & Subject Options presentations (Postponed to January)
Monday 19th December : Singapore Universities Admissions information Session (3:30 to 5 pm)
Wednesday 21st December : Senior School Winter Concert (1:45 pm start)
Thursday 22nd January : First Day of Winter Holiday
Monday 2nd January : Return to School
Tuesday 10th January: Grade 7 Get Ready for Senior School Transition Morning (students) 
Wednesday 11th January: Grade 7 Get Ready for Senior School Transition Morning (parents) 
Student Wellbeing
Dear parents,
It was wonderful meeting many of you at PTC and being able to chat about your child's progress and well-being. I trust all parents have also been able to look at the Term 1 reports and have positive discussions and your child's learning journey.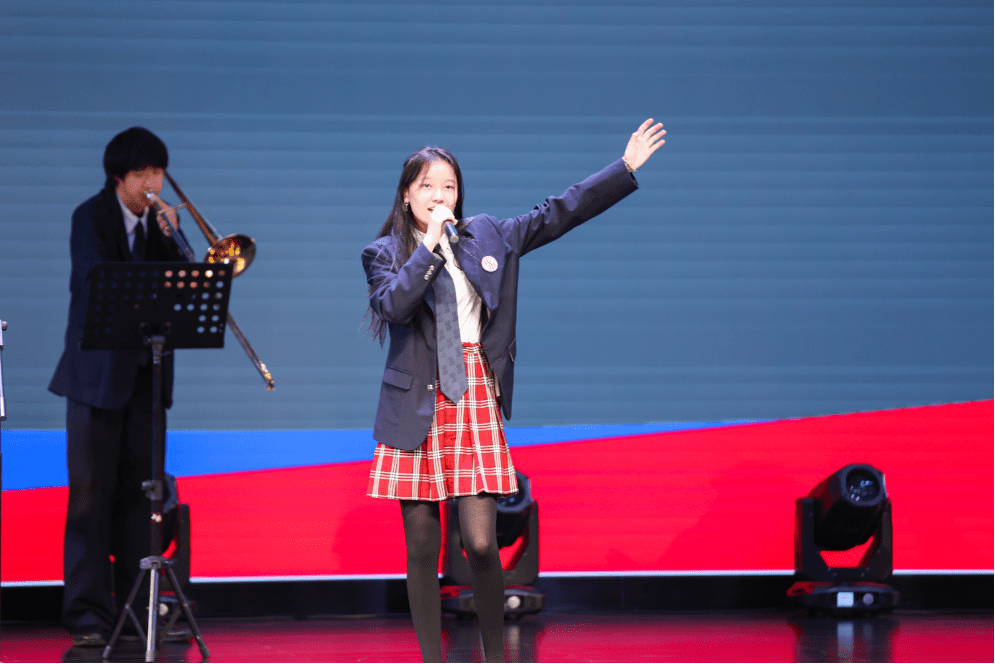 The last 2 weeks have been full of so many many activities in senior school. We have had the IGCSE Awards Ceremony, Group 4 projects and the Science incursions, IG/IB Options Talks & a PEP on Guided Reading. Then there have been external events like the ACAMIS volleyball, the Student Leadership Online Program and a robotics away competition. For parents, this is a true testament of just how much is going on and the dedication of both students and staff alike.
December 1st marks the start of our new monthly theme: Sharing is Caring. Some essential questions we have asked students include:
What does this mean to you?
How often do you show someone you care?
Do you make a concerted effort to share?
With service learning being a part of our student's growth, I hope that all students can do something positive over the next month and across the year to show they care.
These could be simple actions like: Sitting with another student who is alone, – saying hello, having a chat. Helping a friend with something they are struggling with. Sharing a nice/warm word or kind thoughts. Praising people around you. Getting involved in some charity work. Donating clothes, toys, goods they no longer need to charities. Volunteering at a local center, charity. Fund-raising for humanitarian aid.
Our goal is to empower students to show empathy and be socially aware of others around them.
We kick off this term with Gratitude & Kindness Week which is the 5-12th December, so please do encourage your child to participate in all the activities that have been arranged by the Student Council.
I end with this poem. Spread the love everyone.
Ms Shireen Naidoo, Senior School Assistant Principal shireen_naidoo@ssis.asia
Academic Coordinators
It was lovely to meet so many parents during the Parent Teacher Conferences. Home and school relationships are so important and fundamental towards increasing student success. This week we were busy making preparations for welcoming Grade 6 Students and their parents in our event 'Get Ready for the Senior School. Due to COVID restrictions affecting grade 6 families, the events have been rescheduled to the 10th and 11th of January. A new sign-up process will be shared after the winter holiday.
Mr David Herring, CLSP Coordinator david_herring@ssis.asia
PTC was a great success and it was wonderful to see so many parents in the school again. For the parents of our Grade 9 group, this was an excellent way to take stock of the IGCSE programme and its expectations, while for our Grade 10 parents, this was an opportunity to assess the progress that has been made over the past year and a half and assess the best options for the IBDP future. These conversations and the role they play in bridging the gap between school and home are a key aspect of our approach to education at SSIS and of immense benefit to the students and are something we look forward to continuing in the days and months to come.
Mr Andrew Cole, IGCSE Coordinator andrew_cole@ssis.asia
Thank you to all the parents who came into PTC. It was wonderful to share all the progress that is happening across our program. At the same time, G12 students completed their science presentations, focusing on ways to make our school more efficient and environmentally friendly. Known as the Group 4 project, the students were impressive in their confident delivery and in their persuasive proposals, delivered to a panel of guest judges. The science team did a fantastic job organising the event, and students learnt from the challenges and rewards of making a proposal in a professional environment.
Mr Adam Kent Crossley, IBDP Coordinator adam_crossley@ssis.asia
Reminders
Please ensure your children are ready for Monday, Wednesday and Fridays COVID testing by coming to school with their ID cards. ID cards are also required to take out books from the library.
If your child is absent, please email your child's form teacher as soon as possible with a reason. Please also directly state whether your child has a fever or no fever. It is a Shanghai Education Committee requirement for all schools to record attendance and reasons for absence.
A reminder that students should arrive at school wearing smart black shoes, dark socks and ties. As the season has changed to winter, students should also wear their school blazers as the first outer layer of clothing. Black, navy or dark coloured and minimal-label outer jackets may be worn over the school blazar. Students should remove their outer jackets in lessons.
Please email me with any questions you may have, and we can arrange a follow-up phone call through my PA Katharine Chen.
Contact Information
| | | |
| --- | --- | --- |
| Mr Steven Gaynor | Senior School Principal | steven_gaynor@ssis.asia |
| Ms Katharine Chen | PA to Senior School Principal | katharine_chen@ssis.asia |