We're happy to announce the launch of the school's first official magazine FLOW. Created by the marketing department, and with contributions and features by students and faculty, FLOW represents the voice of the school and will be published once every term.
We wanted this magazine to tell the world:
What SSIS is about.
Where we are in the academic domain.
Why we do things differently.
Who are the people who make it thrive.
How we are engaging with the community around us.
The name FLOW comes from the notion that we are always moving forward, always dedicated to learning, and always seeking higher standards. It's been a real pleasure to work with our talented students to make this magazine come alive.
The first issue's theme is an exploration of Lifelong Learning: why it's important, who's doing it, and how you can too. In addition to the brilliant individuals on campus we were able to interview, we also scored a major coup with the Vice-Mayor of Hua Cao town, who's a lifelong learner and provided many words of wisdom.
1. A guide to Shanghai's music hotspots—recommended by our Music HOD.
2. An interview with the first alumna to return to SSIS to teach.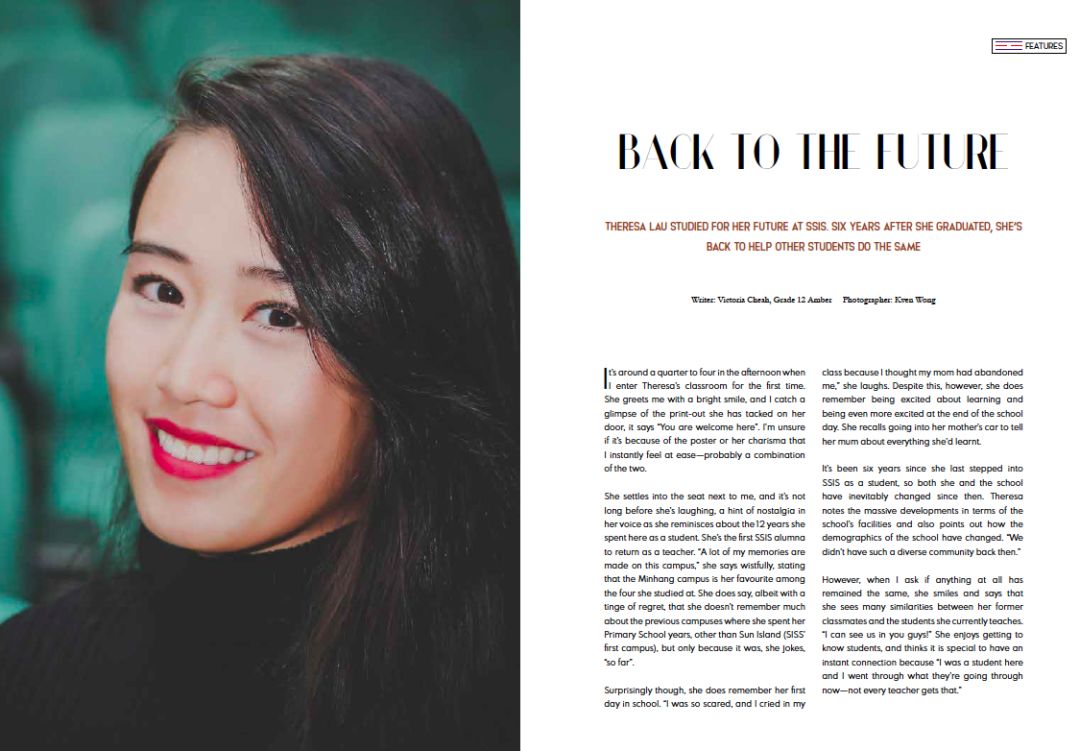 3. Chinese Culture textbooks created by our Primary Chinese teachers.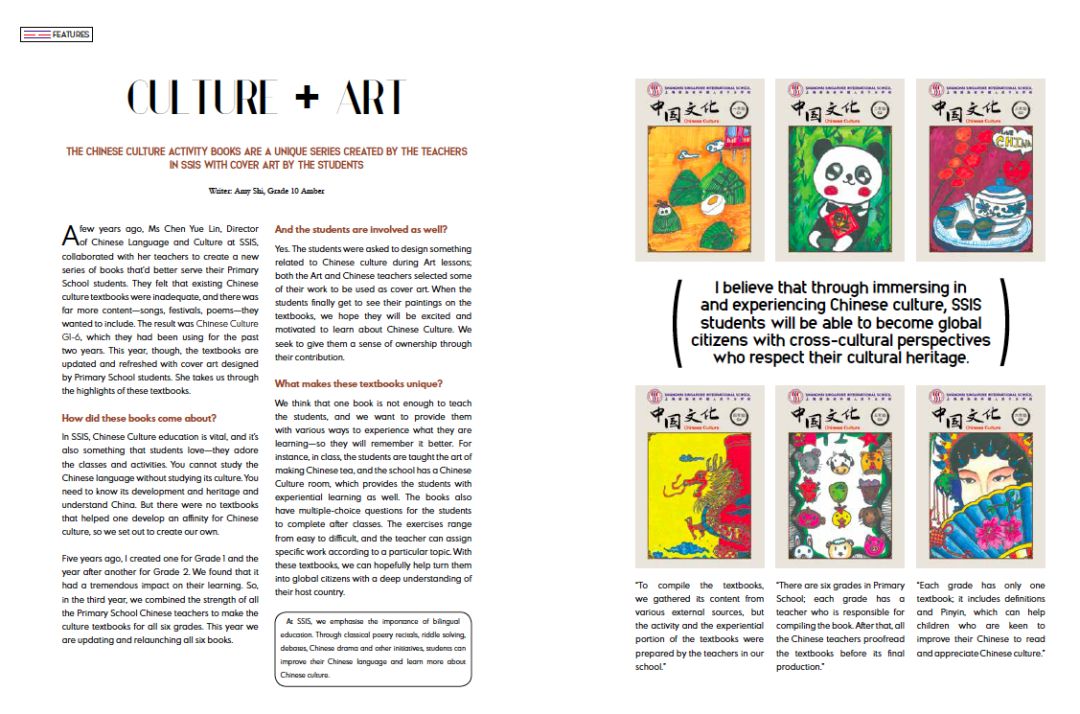 The magazine will showcase the creative writing and artistic output of our students, as it is published for the education community, our media partners, parents and students.
As with each undertaking, every step forward is an occasion to learn. For the student writers, this was a chance to learn not just feature writing, but also the process of getting a magazine published. Unlike essays for homework, which are graded and filed away, feature work is an organic process of conceptualising, drafting, writing, editing, rewriting, reediting, rewriting, captioning and translating. And that's before you even get to the layout.
We worked with our designer to secure new fonts and create a look for the magazine—modern and minimalist—because we wanted the focus to be on the quality of the writing and the stories we were telling. We are also learning as we go along, refining the sections, focusing our themes, and making sure the magazine best reflects SSIS and its community.
For the team, it was a valuable opportunity to work with talented students and help them bring their writing to fruition. We've already begun work on issue two of FLOW and will be working with some student artists to create a cover as well. We, of course, welcome more writers into our FLOW family, so if you are keen to contribute, speak to us.
We hope you enjoy reading this issue of FLOW. It can be downloaded from the website- "Campus Life" – "Publications".
For any editorial matters, or if you wish to provide commentary or contribute articles, please contact our editor at marketing@ssis.asia.