We celebrated our 23rd Founder's Day with music, speeches, awards, festivities and of course, a big creamy birthday cake!
Our hosts were teachers Mr. Eric GOH and Mr. Simon JACKSON, who kicked off our joyous Founder's Day celebrations with cheerful banter. "Our first campus opened on this very day 23 years ago, September 3rd, 1996," they reminded us.
Then they introduced our first act, the Senior School Rock Band, whose exuberant performance really lifted everyone's spirits. Head of School Mr. TAN Thong Howe then welcomed all in attendance, before ceding the room to our most important guest, actual founder Mr. TAN Hong Khoon. Our founder's recorded message reminded everyone of the school's humble beginnings at the Sun Island Golf Resort. It's clear that our fourth and present Minhang campus demonstrates the school's growth and ambition over 23 years – Together Towards Tomorrow indeed.
There was more to celebrate with the second Scholarship Award Ceremony, and this year, other than IBDP Excellence and Merit Scholarships, we added Athletics and Aesthetics scholarships as well. Deserving students were awarded 50% to 100% tuition fees coverage. Loud cheers went to all the recipients of the scholarship awards, whose parents were also on stage for a proud photo opportunity. It's a moment to remind all students to continue to strive for excellence.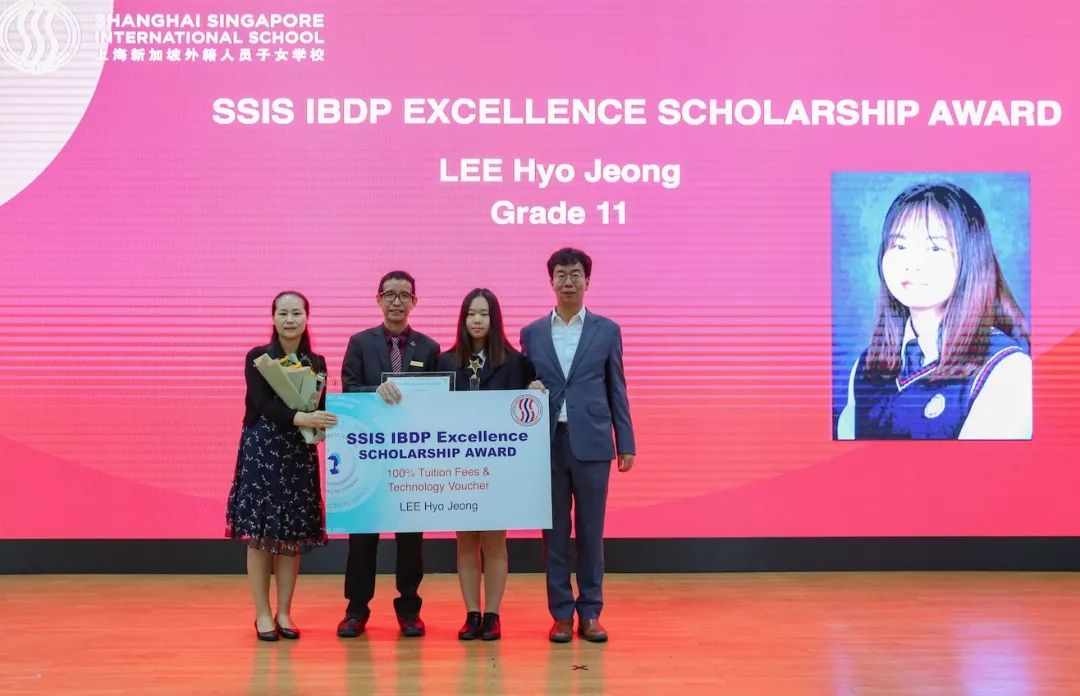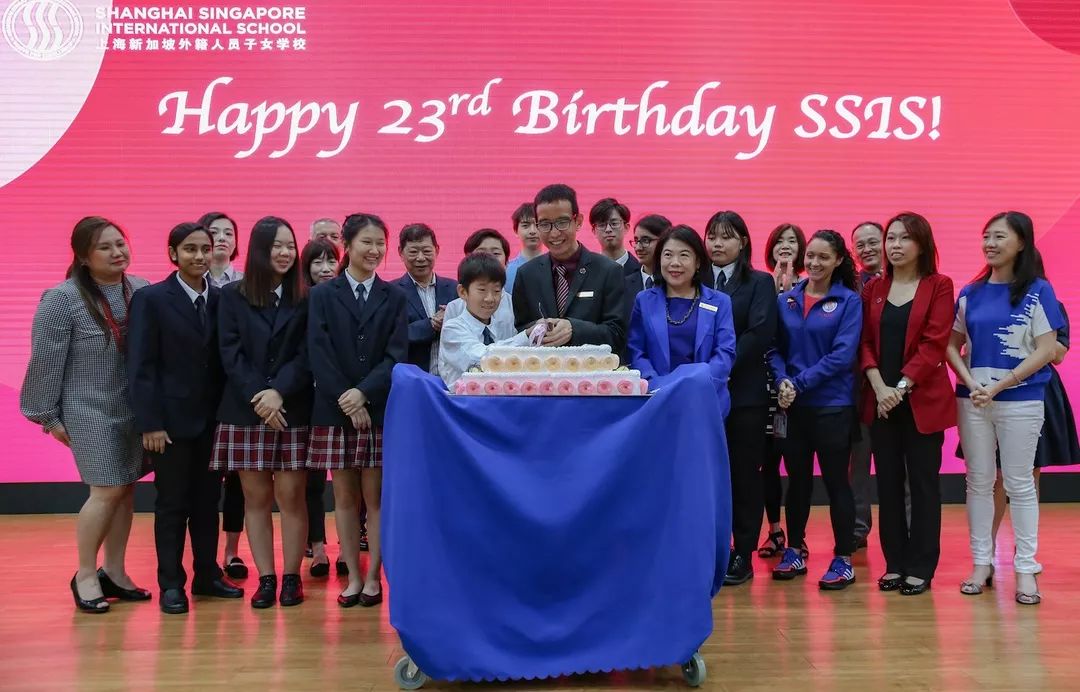 And of course, you can't have a birthday party without a birthday cake, which was displayed on stage while everyone in the gym sang a jolly Happy Birthday song. (Not sure if the cake can be split 1,600 ways though.)
Then everyone got on their feet to finish off the morning festivities with a rousing rendition of the SSIS school anthem. Everyone departed to attend their respective programmes: some parents went to the Grade 6 pre-camp talk; some had coffee with the Divisional principals, and the senior students checked out the After School Programme offerings. (One Question: Where did the cake go?)
The fun continued in the canteen, where everyone was treated to a barbeque spread, and performances by students on the SSIS Has Talent stage. Our singers, hip-hop crew and musicians definitely owned the stage and provided many beatific WeChat Moments.
A lot of effort and coordination went into preparing for this big day, and the smiling students, thrilled parents and overjoyed faculty made it all worthwhile. And of course, the cake in the canteen really brought the point home: we're 23, and we're all in this together.
Here's to more great birthdays!