Are you a parent of a curious and imaginative child, looking for a nurturing and engaging learning environment? 
您的孩子是否对世界充满好奇又富有想象力?
您是否正在为孩子寻找温暖又丰沃的学习环境?
The experiences one has in childhood will impact their entire life.
As parents and educators, we all want the best for our children. Ensuring that they receive the right education from an early age is paramount in setting them up for a successful future.
作为家长与教育者,我们都期待给予孩子最好的一切。孩子未来的成功离不开完满的早期教育。
Join SSIS Preschool Trial Class & Experience the Possibilities
加入幼儿部试听课,发现探究式学习的魅力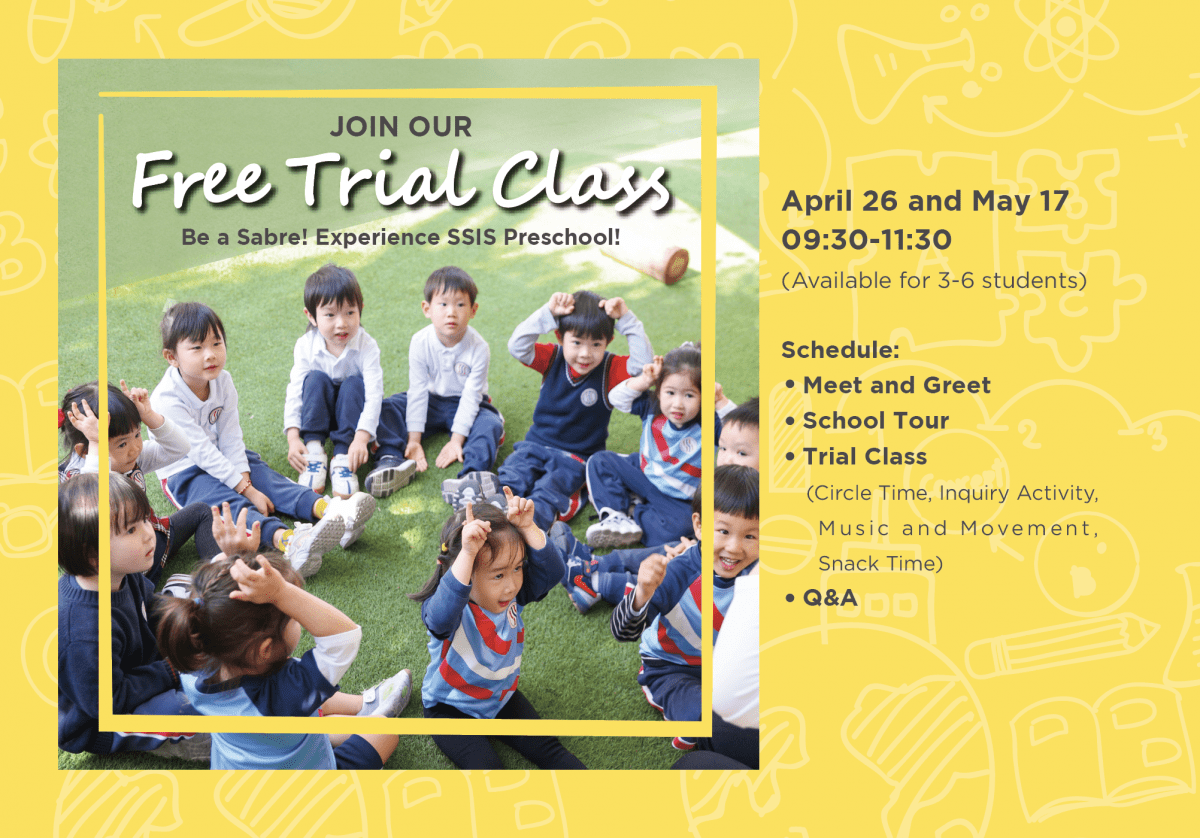 Inquiry-based learning with a focus on holistic development is a unique approach that Shanghai Singapore International School Preschool has developed to focus on the developmental needs and interests of each child.
注重培养全人发展的探究式学习(inquiry-based learning)是上海新加坡外籍人员子女学校(SSIS)幼儿部研发的一套独特的教学方法,旨在关注与发掘每个孩子的发展需求与兴趣。
The best way to truly understand the benefits of inquiry-based learning is to experience it for yourself. We are excited to invite you and your little ones to join our free trial classes and experience first-hand. 
要真正理解探究式学习的优势,最好的方法是亲身体验。我们很高兴邀请您和您的孩子加入我们的免费试听课程,亲身体验SSIS的先进教育理念与实力。
'Be a Sabre Trial Class' is the perfect opportunity to: 
加入"Sabre试听课",你可以……
Meet face-to-face with our Preschool Leadership Team and teachers 与幼儿部领导团队和教师面对面交流
Explore the Preschool learning spaces 探索SSIS幼儿部丰富的学习空间
Experience inquiry-based learning at SSIS 体验SSIS的探究式学习
Date: April 26th and May 17th
Time: 9:30 – 11:30
Don't miss out on this exciting opportunity to discover all that Shanghai Singapore International Preschool has to offer. 不要错过探索SSIS幼儿部的绝佳机会!