On 5–6 December, the Senior School students produced a breakthrough piece of theatre that will be talked about for years. Café Murder was an immersive play that needed the collaboration of actors, musicians, backstage crew and extras, and the participation of the audience to work. In this instance, everyone in the theatre had to work out who had supposedly killed the (very annoying) protagonist.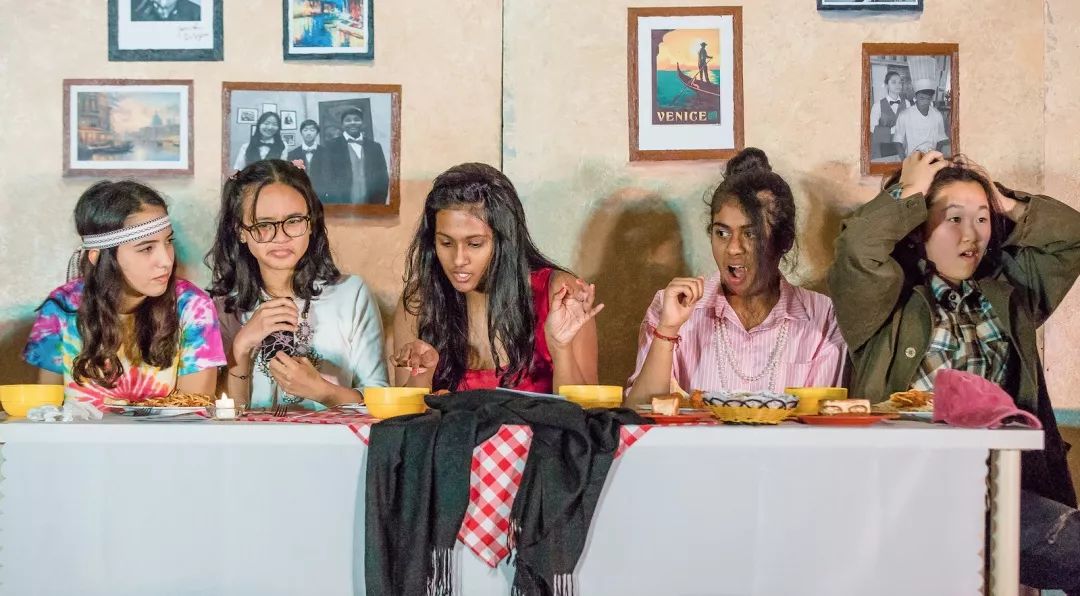 "Immersive theatre is different from traditional theatre as it removes the typical stage and places the audience within the performance. It often uses site-specific locations and invites the audience to become more than just a spectator, possibly even a co-actor," 

Rebecca WEISZ, Senior School Drama and English Teacher.
"This play was a great experience, I really hope that I can do it again. I learnt that drama is not only about the actors; it can also involve the audience. This was an incredible show and it was really exciting."

Julien MONSALLIER
Grade 7 (Actor in Café Murder)
The immersive play engaged all the senses: as audience, we witnessed what was going on around us; we had props to touch and interact with; we heard great music from the band (and a marvellous rendition of Fly Me to The Moon); we ate the Italian food served by the Grade 12 "wait staff"; and we had to sniff out the clues to finger the murderer. 
According to Ms WEISZ, her Grade 7 students inspired her choice of this immersive production this year. While in class discussing the different types of performance spaces, she realised that students were having a hard time grasping that theatre could be anywhere, even in a school.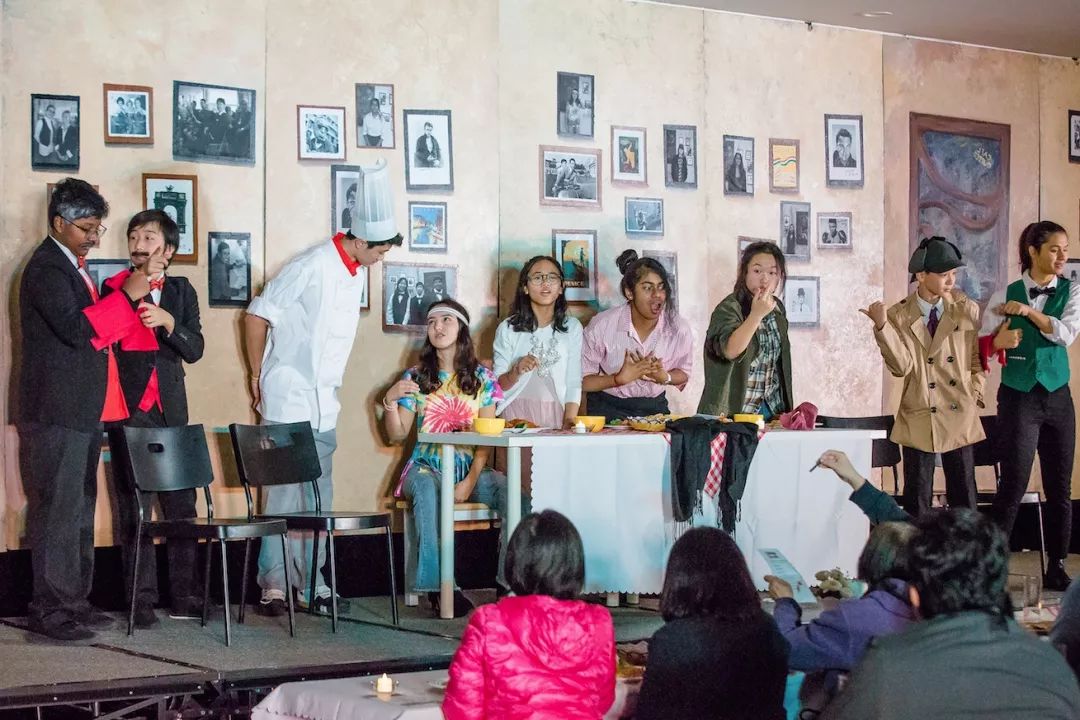 She also revealed that improvisation was fundamental to the development of character, scenes, and it allowed the actors freedom in the creative process. Although the actors felt that this was one of the most challenging roles to rehearse for, this was clearly the audience's favourite part.
"I also find that sometimes students believe they are too shy to get on stage. Immersive theatre breaks 'the fourth wall' and asks the audience to get involved. In some ways, the performance is only dynamic if the audience is performing as well. Watching students, teachers, and parents actively participate during the show makes the stage come alive for all involved."

Rebecca WEISZ
Senior School Drama and English Teacher
Having to create the illusion of a restaurant was an excellent opportunity for the students working backstage to create a space that was more than just a cafeteria (no easy feat). The entrance to the café was designed by our talented Parent Support Group (PSG). The illusion was further enhanced through choices in décor, costumes, music, and the amazing Grade 12s who—in only four rehearsals—rivalled servers we would find in restaurants in Shanghai. In all, there were 10 actors, one singer, 14 musicians, 13 servers, one backstage manager, one designer and two assistants, and those were only the students involved!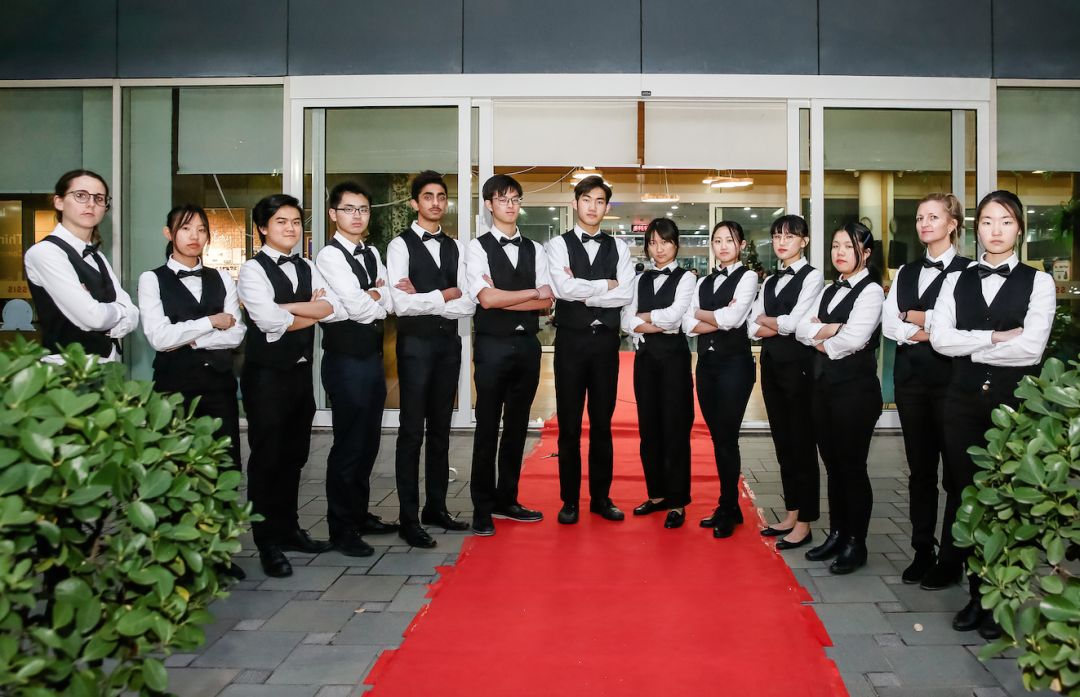 "I've taken Art as one of my IGCSE subjects, and I thought it'd be good practice as well as fun to do set design, and see the backstage process of creating a set, costumes and posters. From this play, I have definitely learnt to work on tight deadlines and to prioritise my commitments, which is very useful for IGCSE and IB later on."

Defne GURKAN
Grade 9 (Actor in Café Murder)
"This year's production was an absolute blast! Café Murder was the most challenging play; it really forced me to step out of my comfort zone. From day one to the final performance day, I was working with different people and improving through the day of the big show. My confidence and time management skills were really tested in the past two months; through this amazing experience, I have learnt how important teamwork is, and that I am capable of many challenges."

Kannika SENTHILKUMAR
Grade 9 (Actor in Café Murder)
"This year's drama Café Murder was a real treat to all of us and, in our view, was really a benchmark from the SSIS drama community. The event excelled in all aspects with a stellar ambience, amazing performances, great script and direction, and wonderful music. We are exceedingly proud of Sanjana's commitment to drama and her passion for the subject. We believe that this passion is also a reflection of the direction she may want to pursue and excel in for the future. We will always support her interests at all times, and we believe that a huge part of this interest and passion is fueled by her teacher. "

Vinod Appukuttan PILLAI
Father of Sanjana PILLAI
There is a plethora of established research on the benefits of Drama to young people's physical, social, and emotional development. At SSIS, the I4Cs are continuously employed, and communication and collaboration are central to Drama. Drama also enables students to be more prepared to work in a more team orientated environment.
As part of SSIS' holistic approach to education, the Visual Arts, Drama and Music curriculum intentionally exposes our learners to different modes of expression and development.