T111 – 11 Nov 2022
Tomorrow! International Family Bazaar @ Millenium Hotel
Please come and join us in the biggest community event organised by our Parent Support Group!
It is free entry to all, including the public! 免费入场,无须预约,对外开放!
There are loads of food, student performances, games, shopping and more! 学生表演、美食、游戏、购物,不要错过!
Due to limited parking at the hotel, please use public transportation. 建议绿色出行!
Please ensure you have a 72 hrs PCR test result upon entry. 请确保有72小时内的核酸检测记录。
Key in 'IFB2022' in SSIS Official WeChat account to obtain the detailed IFB E-guide. You will also be able to view and download photos in a live album on the event day. 关注SSIS公众号,输入 IFB2022 获取详细信息,并在活动当天(明天!)观看/下载活动照片。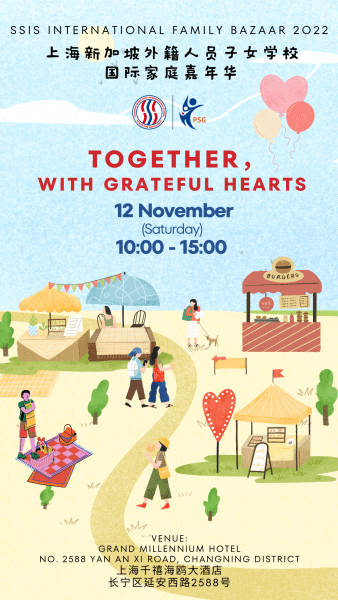 26 November Saturday Christmas Gala Dinner @ Westin Bund Center
Do not miss the first-ever SSIS Christmas Gala!
Open to SSIS community – Staff, parents, students and family.
Limited seating, please get your tickets early!
For more details, click here:
*Please note that parents of student performers (performing at the Gala) should have received a letter from our Director of Aesthetics. Please respond asap. Also, please note that the holding room will only be reserved for student performers. No other persons will be allowed inside. Thank you!
*请注意:表演学生的家长应已收到美育总监(Mr. Edward Swider)的电邮,请及时回复。Holding Room 休息室仅限学生表演。其他人员不得进入。谢谢理解!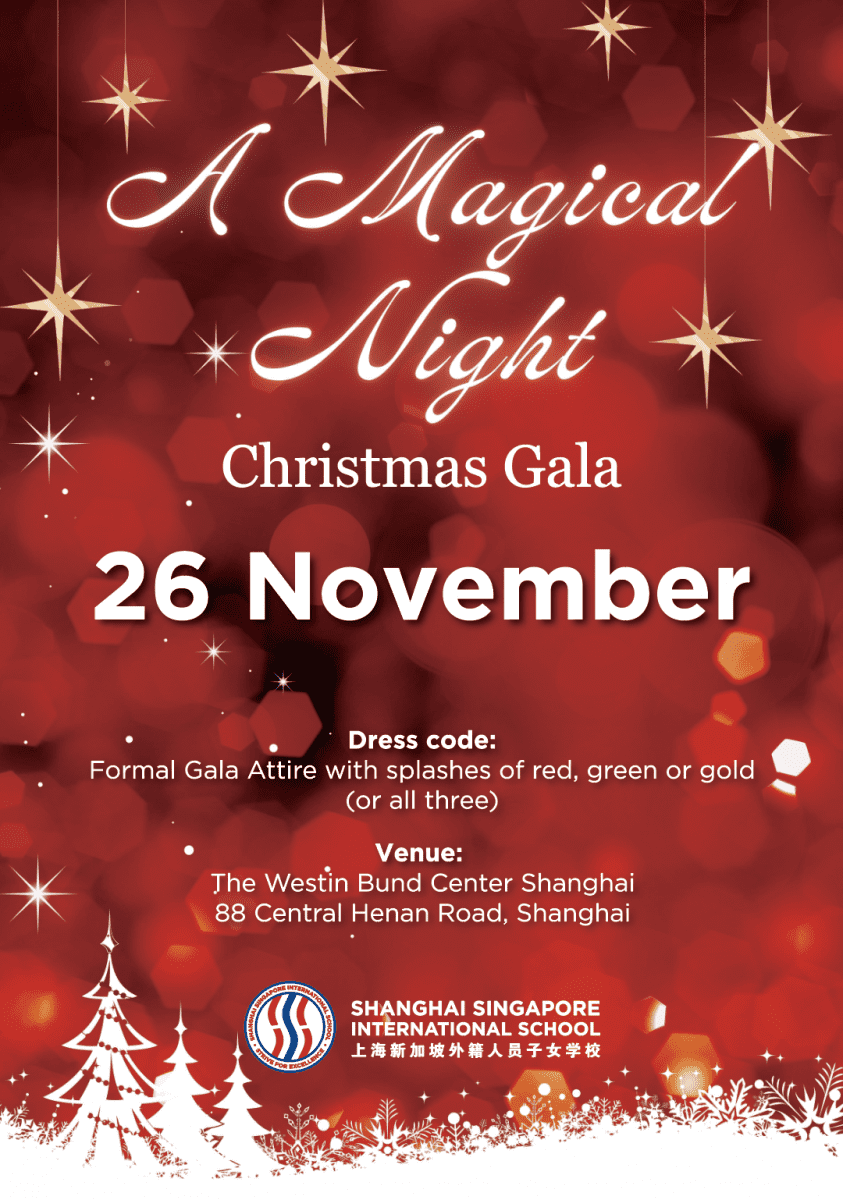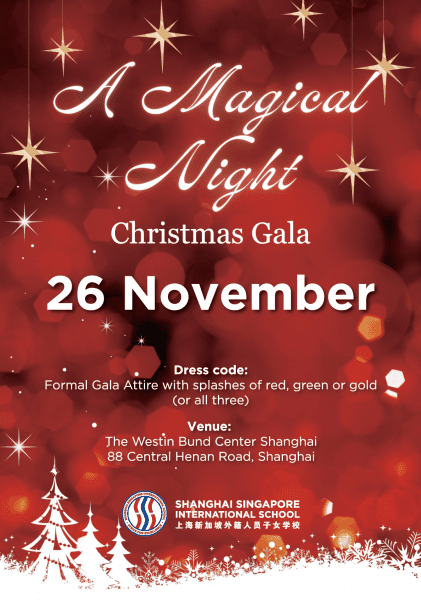 Upcoming SSIS Community Events
12 November Saturday International Family Bazaar
26 November Saturday Christmas Gala Dinner
11 December Sunday Performance @ Disneyland
18 January Wednesday Cooking with our Campus Principal
03 February Friday Chinese New Year Dinner
17 February Friday Family Movie Night @ PAC
24 March Friday Dad's Mixer
14 April Friday International Friendship Day
10 May Wednesday Mother's Day Lunch
14 June Wednesday Summer Concert & End of Year Party
(Please note these dates are tentative and subject to change)