June is a time of celebration for SSIS. The Prize Presentation Ceremony is the culmination of a year of hard work by the students; a celebration of their achievements in their academic pursuits, aesthetics talents, sportsmanship, and the outward demonstration of the School's I4C values, namely Initiative, Care, Commitment, Communication and Collaboration.
The presentation started with an opening speech by School Principal Ms Billie LEONG, who stressed the importance of our I4C values in light of a challenging year. These values came to the fore when we showed our best through our achievements, abilities and learning.
She presented all the I4C Awards to deserving students from Grade 7-12. The I4C winners were chosen by the Senior School teachers through grade level deliberations of students' attitude and effort in embracing the SSIS I4C values throughout the year.
The Shanghai International Schools Association (SISA) Award recognises a student whose leadership has led to the betterment of student life and the school. The recipient demonstrates the characteristics of leadership-based initiative, commitment, care, communication and collaboration as identified by the School's I4C values, and this year the SISA Award went to Kayo KIMIZONO, Grade 12. Kayo is truly deserving of this award as she was also the recipient of the SSIS IBDP Merit Scholarship, President of the Student Council and captain of the ACAMIS Girls Soccer team.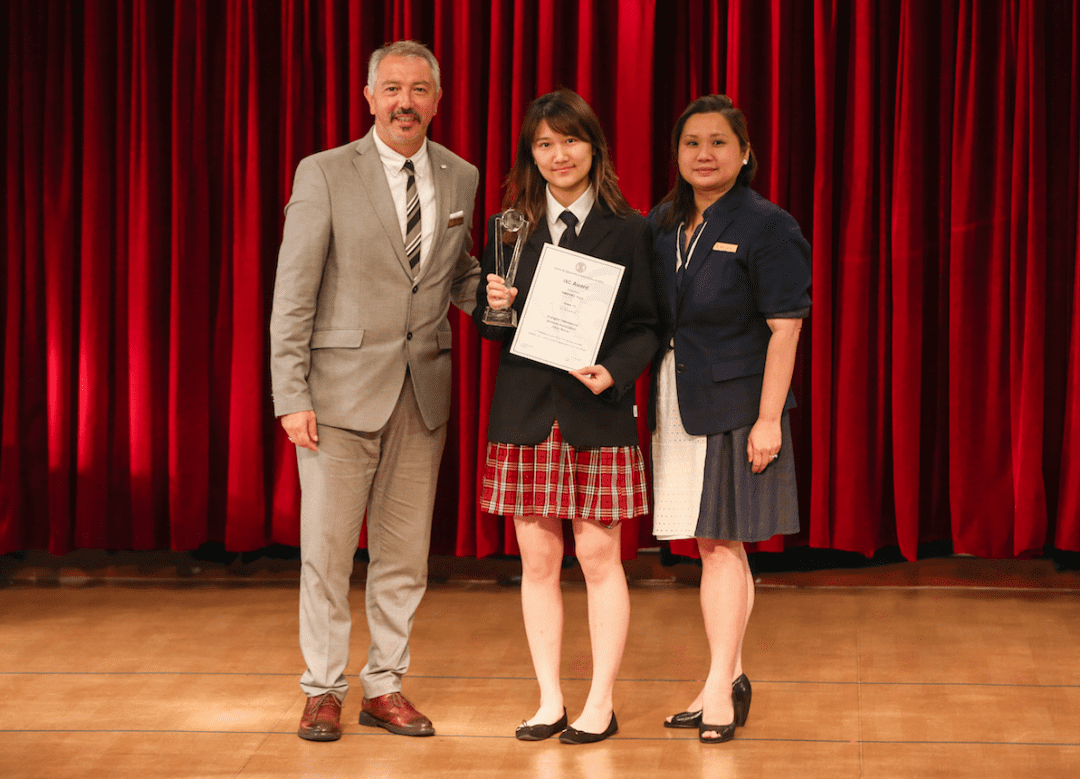 The Pathfinder Award recognises a student who has, above all other students, demonstrated exemplary behaviour that could serve as a source of inspiration to everyone. The Pathfinder Award recipient possesses the virtues and qualities that epitomise a highly developed and holistic student.
The Pathfinder Award 2019/2020 is proudly presented to: JUSTINIANO Andrew Justin Galang, Grade 12.
In his sincere and charming speech, Andrew shared about his journey from the Philippines to Shanghai, how he learnt to deal with adversity as a foreign student, and what he did to overcome all challenges.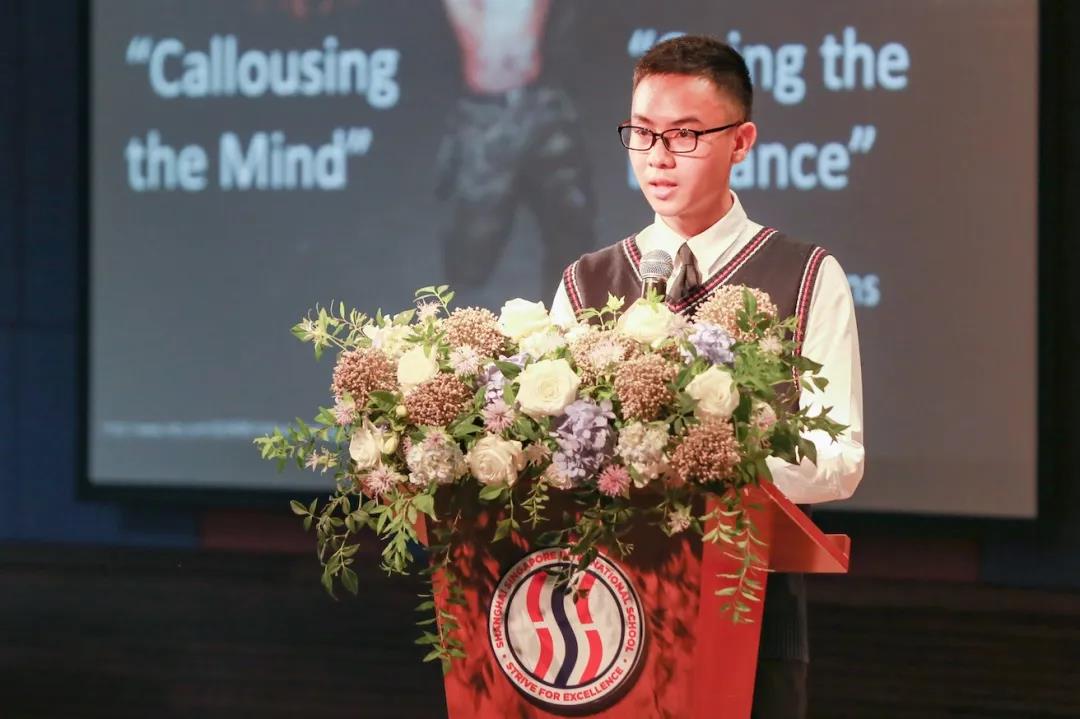 Below is a summary of his speech:
"Callousing the mind" and "Going the distance", these are simple words from an idol of mine, David Goggins, an ultra-endurance athlete and retired US Navy Seal. It talks about being uncomfortable, suffering, and perseverance. I'm sure we all have our own moments of suffering, whether it be heartbreak, failure, loneliness, or distance from friends and family. I believe that such pain is an inescapable fact of life and is vital to our development as a person…
I learnt a lot from isolation. I learned how fruitful it was to uphold discipline even in times when distractions are aplenty. I believe that trying to uphold unwavering daily discipline and being consistent is a form of perseverance. Perhaps it is this kind of consistency alongside being well-rounded and involved that makes a Pathfinder.
AJ (JUSTINIANO Andrew Justin Galang) has been a reliable and consistent contributor of the SSIS Performing Arts community for many years and has been a performer and student of the highest calibre. He has regularly performed as a soloist, in chamber ensembles, and with the talented G12 Rock Band. Every time he took to the stage, students and staff were impressed with his refined skill—his music always mesmerised and captured the attention of his audience. We will miss him and his ever-positive attitude. Thank you for all of your hard work AJ!

Edward SWIDER
Performing Arts HOD and Music Teacher
I got to know AJ (JUSTINIANO Andrew Justin Galang) through the Model United Nations programme, in which he has been an outstanding participant. His hardworking, focused and yet sensible approach to tackling world issues is something that many aspiring leaders could learn from. AJ is also a perfect team player who looks out for his friends and fellow students. He was a wonderful role model for the younger MUN delegates who looked up to him and benefited from his wisdom and kindness. AJ is one of a kind, and I will miss him.

Jana JACKSON
Senior School English Teacher and TOK Coordinator, PUXIMUN Director
Congratulations to all the award winners!