SSIS's motto, "Strive for Excellence", has been demonstrated once again after one of our students, Tanisha CHAUDHURY, performed outstandingly at the 2021 Shanghai School Expo where the final round of the "Student Voices" Speech Competition was held. 
More than 400 students from 30 schools participated in three rounds over a period of six months, and Tanisha walked away with second place – an achievement to be proud of. 
In April this year, 25 SSIS Primary students participated in the contest, which was run by Shanghai Family, Parents & Kids and HuMaNiuWa. Three of our students made it to the final round, which took place at the 2021 Shanghai School Expo on Saturday, 16 October. 
The theme of the competition was "My Hometown" which gave students the creative means to not only articulate their views on their hometown, but also ignite future change. Our students told stories of their local delicious food, beautiful places to see, and how citizens were fighting the pandemic. 
Congratulations to our award-winning speakers
Second Prize Winner – Tanisha 
Excellence Award – Jui-Jang & Jed
There was also a wonderful cello performance – "Chanson Villageoise" – by our student Weiyo.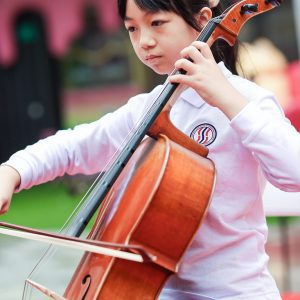 At SSIS, one of the goals of our English curriculum is to enhance students' speaking skills. This includes building their confidence to speak in front of crowds and motivating them to do so by providing multiple internal and external platforms. 
Congratulations to all of our finalists, and especially to Tanisha for winning second prize! Public speaking is an incredibly important life skill in both school and in one's future career. Participating in competitions like this can increase students' confidence, clarity, and fluency when speaking in front of others. 

Jordan ALLISON
HOD of Primary English
At SSIS, we encourage students to take part in activities and competitions out of their classrooms. This allows them to gain newer perspectives, develops their confidence and social skills, and helps them to become more well-rounded citizens of the world. 
Photo Credits: Shanghai Family media